About Us
Oriental Securities Corp. is a pioneer in the financial services field in the Far Eastern Group.
Oriental Securities Corp.(OSC), founded in 1979, is a pioneer in the financial services field in the Far Eastern Group. With advanced information systems and teams of dedicated professional managers, we provide the investing public a wide range of financial and investment services.
In 1999, in order to provide more complete and professional finance information and planning services,"Oriental Securities Investment Advisory Co., Ltd, was incorporated into the company.
At Oriental Securities, we are dedicated to helping investors meet their needs. We make this belief a reality by putting clients first, offering new investment products, value-added financial services, doing the right things, and giving back.
Looking forward, we are currently developing a new business model and analysis that drive new perspectives, and new paths to growth. Even as the world's markets become more technologically advanced and internationalized, we strive to do our utmost for Taiwan's financial markets.
Company History
1979

Oriental Securities was founded by Douglas Hsu, Shaw Y. Wang, and others.

1989

To pursue further growth, Oriental Securities was upgraded to a comprehensive securities firm.To pursue further growth, Oriental Securities was upgraded to a comprehensive securities firm.

1992

Oriental Securities expanded services by launching margin trading and short selling business.

1994

Banqiao Branch Office was opened to service the greater Banqiao area and local communities.

1995

To expand business scope, Oriental Securities started offering OTC trading business.

1997

Tianmu and Minsheng Branch Offices opened their doors to clients in these two areas.

1998

Oriental Securities further expanded services beyond Taipei and New Taipei cities by opening offices in Hsinchu and Tainan.

1999

In order to provide a full range of financial management services, Oriental Securities Investment Advisory Co., Ltd, a subsidiary, launched its operation. Minsheng Branch Office was relocated and renamed to Nanjing Branch Office.

2000

To better service our clients in Southern Taiwan, Oriental Securities started operation in Taichung and Kaohsiung.

2001

To enhance efficiency and growth, Tianmu Branch Office was merged into Nanjing Branch Office.

2002

To ride the wave of future investments in the intenet era, Electronic Commerce Department was formed to provide clients with e-trading services.

2003

Derivatives Department was created to manage the issuance of warrants åand derivative products.

2004

To optimize the service quality, Nanjing Branch was merged into Brokerage Department of the Headquarters. As Taiwan government lifted certain security trading restrictions, Future Trading Department was formed to pursue more investment opportunities and growth.

2007

Kaohsiung Branch Office was relocated to Qianzhen District.

2010

To expand further in Northern Taiwan and serve increasingly diverse clients, Taoyuan and Shuangho Branch Offices were opened.

2015

Offshore Securities Unit (OSU) initiated operations, engaging in offshore securities business.

2016

To continue to focus on sales growth, service quality, the company decided to merge Taoyuan Branch into Banqiao Branch and Shuangho Branch into Brokerage Department of the Headquarters.

2019

To increase Far Eastern Group's operational efficiency and maximize profitability , the company's head office was relocated to newly-built Mega Tower, headquarters of Far Eastern Group, to Banqiao, the new financial center in New Taipei City.
Organization Structure
The organizational structure of Oriental Securities is as follows: Shareholders' Meeting is the highest decision-making body。There is a board of directors, and one of the directors is elected as the chairman.
Sustainable Development Committee, Audit Committee, Risk Management Committee, Auditing Department and Risk Management Department etc., are subordinate to the board of directors. Investment Decision Committee, Personnel Review Committee, and Personal Information Protection Committee etc., are subordinate to the chairman.
Set up a president and vice presidents. And the major departments are: International Department, Corporate Planning Department, Futures Brokerage Department, Brokerage Department, Derivatives Department, Fixed lncome Department, Registrar Agency Department, Underwriting Department, Proprietary Trading Department, Futures Trading Department, Human Resources Department, Administration Department, International Department. Information Tech. Department and Legal Compliance Department.
The Administration Department consists of: Finance Department, Accounting Department, and General Affairs Department. The Brokerage Department consists of: Brokerage Business Management Department, E-Commerce Department, and six Branches(Taipei, Banqiao, Hsinchu, Taichung, Tainan,and Kaohsiung Branch.). The International Department has an Offshore Securities Unit.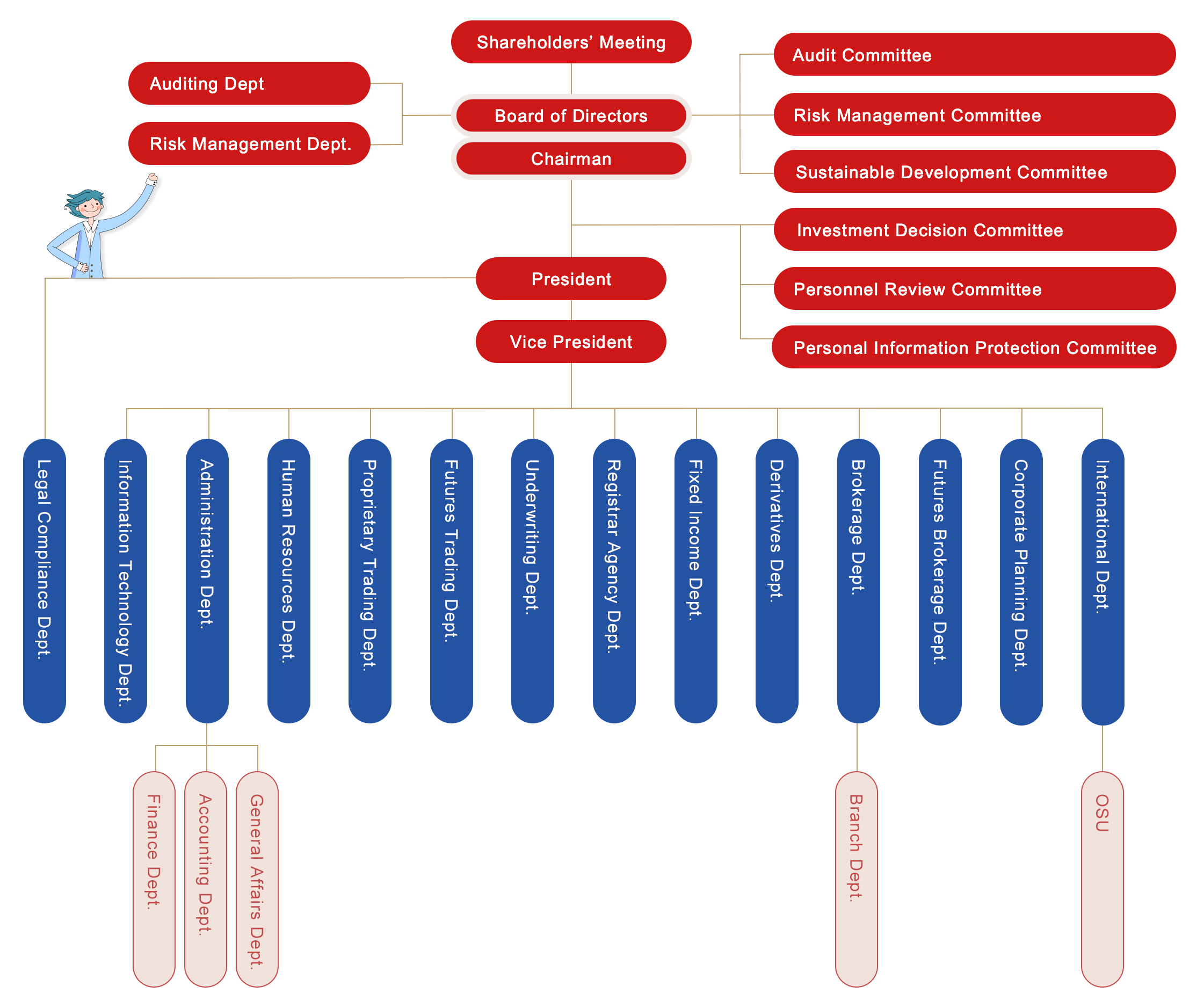 Major Businesses
Oriental Securities' service scope spans broking, proprietary trading, underwriting,
offshore securities business, fixed income, new financial products, etc.

Proprietary Trading
Engaging in the trading of domestic/foreign securities as listed, OTC and emerging stocks.
Proprietary trading and market making for domestic/foreign futures contracts, options contracts, and futures options contracts.
Fixed lncome
Responsible for the trading, repurchasing, and reselling transactions of bonds, bills, beneficiary securities, and asset backed securities.
Conducting interest rate derivatives business.
Brokerage
Providing clients with investment services covering diversified financial products.
Accepting orders to trade TWSE/TPEx listed stocks, futures, and other financial products as approved by law.
Underwriting
Managing financial and operational evaluation, and other consulting services for domestic / foreign issuing companies, as well as TSE/OTC IPOs, corporate financing, and underwriting and sale of equity securities.
Registrar Agency
Developing and undertaking registrar business.
Providing and handling shareholder services and collecting shareholder proxy voting materials.
Derivatives
Proprietary trading and strategic trading of warrants, financial derivatives.
Offshore Securities Unit
Conducting offshore securities business, including brokerage, underwriting, and proprietary trading of foreign currency denominated securities or foreign currency denominated financial instruments, as well as other securities-related foreign exchange business approved by the authority.